1998-03-09 Entertainment Center, Sydney, AUS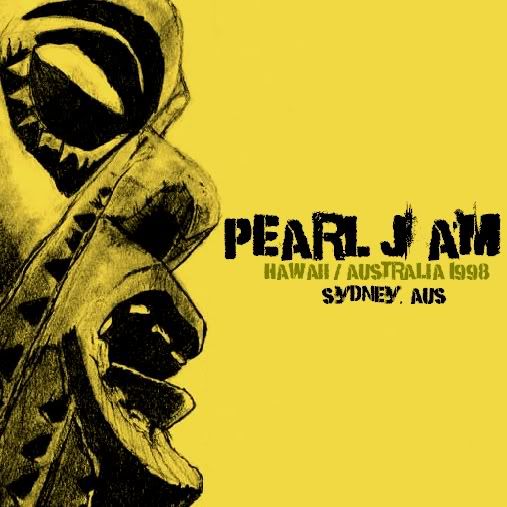 Show Info:
1998 Yield Tour Show
Set Length:
90min
Attendance:
12,000
Support Act:
Shudder To Think
Main Set:
Long Road, Hail Hail, Brain of J, Do the Evolution, Faithfull, Interstellar Overdrive, Corduroy, Wishlist, MFC, Even Flow, Animal, Daughter/(ABitW), Given to Fly, Jeremy, Dead Man!, Better Man, Rearviewmirror
Encore:
Happy Birthday, Who You Are, Go, Once, Leaving Here
Show Notes:
A show full of surprises! With Jeff's birthday tomorrow, Ed picks up a banner from the crowd which reads: "Happy Birthday Jeff," which Jeff wears like a cape while seated mid-stage. A member of the road crew brings out a cake and Ed leads the crowd in singing 'Happy Birthday.' Ed throws the cake (cream pie) straight in Jeff's face! Jeff throws it back into Ed's, Ed to Mike's and Stone's, and then Jack stuffs the pie into his own face :) Lastly, Ed takes a shot at one of the members of the audience who is riding on someone's shoulders and HITS HIM IN THE FACE with the crowd roaring in amazement!! Other notes ... After 'Jeremy,' Ed sits down on a chair and begins talking about how during one of the notes (in 'Jeremy'), he kind of "blacks out" for a second: "You know, when you hold your breath until you think you're going to pass out .. then you keep holding it." He finishes by saying that then he woke up "with a bunch of guys in Sydney ..." getting a big roar from the crowd. Later, "... now, we're gonna do something that's gonna set this show apart from all the others. This song is the b-side from 'Off He Goes' (not-as-big-as-before roar) and it's called 'Dead Man' ..." The whole stage is dark, except for a little light around where Ed is seated. During the quiet interlude in 'RVM' Ed tells the band to keep playing while everyone holds their breath; ... "1 ... 2 ... 3!" The whole place stands there for as long as they could holding their breath, with Ed standing dead still for the longest time with a blue light shining on him.
Download Links (FLAC):
1.
http://www.megaupload.com/?d=7OZZYC5J
2.
http://www.megaupload.com/?d=PKG109WE
3.
http://www.megaupload.com/?d=OSYFC3GG
Download Link (mp3):
http://www.megaupload.com/?d=SU8ZS3JF
Download Link (Artwork):
http://www.megaupload.com/?d=UARNJPF0
Source Info:
Source: Core Sounds Binaurals > Sony TCD-D8 > DAT > CD-R
Conversion: CD-R > Plextor PlexWriter 12/4/32S > EAC* > flac 1.1.0 (Logs Included)
*double extracted and verified